Article: The Style of Wall Street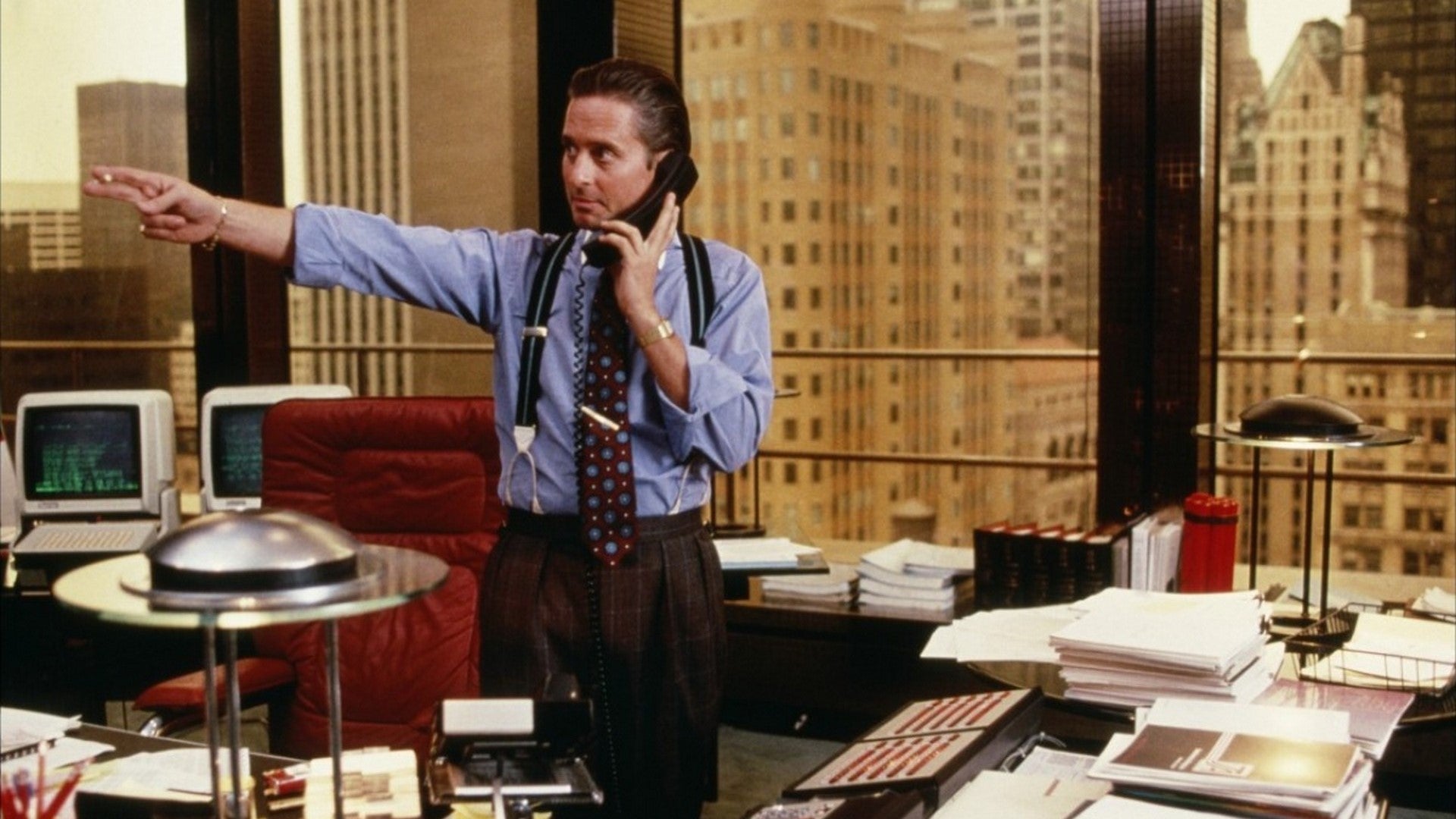 The Style of Wall Street
The 1987 film Wall Street has come to epitomise the bold and brash fashions of successful investment bankers in the mid-eighties. The clothes worn by the main two characters, Michael Douglas's Gordon Gekko and Charlie Sheen's Bud Fox, show the differences between the two and establish personalities, backgrounds, and character development.
The 1980s saw a shift from the more organic patterns and slim outlines of the previous decade toward bolder colours, striped patterns, and voluminous, broader suits. Of course, these 'power suits' existed before Wall Street, but the movie made them a fashion staple for the period.
Ellen Mirojnick was credited as the costume designer, with sartorial expert Alan Flusser as the main consultant and tailor for Douglas's character. He crafted a look, influenced by the 1930s and other periods, that was updated for 1980s high finance.
Michael Douglas's superb portrayal of Gekko, combined with the costume design, made items like power suits and white contrast collar shirts immensely popular. The film changed the way the real Wall Street dressed in the eighties.
The contrast between Gekko and Fox reveals character and development
The sartorial differences a particularly notable at the start of the movie. When we first meet the ambitious but naïve Bud Fox, he is dressed as a typical white-collar office worker for the period. His appearance establishes him as someone who wants to make a good impression but is new and inexperienced.
Early in the film, Fox favours ill-fitting, off-the-rack single-breasted suits in various shades of grey. His shirts tend to be white or striped button-down shirts, and his ties are generally earthy or plain colours. His bland suits and earthy ties are presented in strong contrast to the film's antagonist.
Gordon Gekko is a confident, self-made man whose look reveals his success. Gekko's outfits are rumoured to have taken up a fifth of the film's entire wardrobe budget, and it shows. His suits, shirts, ties, and jewellery set him apart from Fox and reveal his style.
When we first meet the character, he is jacketless and wearing the renowned blue shirt with white contrast collars and cuffs. His tie is burgundy with bold medallions, and he is wearing Albert Thurston Eton striped suspenders with white leather connectors and gold adjusters. This look is complemented by a gold pinky ring, Santos de Cartier Galbée gold wristwatch, and a gold chain-link bracelet.
The next time we see Gekko and Fox together is when they have lunch at the 21 Club. Again, the contrast in clothes reveals the characters and their attitudes. Gekko is in a double-breasted suit in a navy fine herringbone, a horizontal striped shirt, and a navy tie with yellow polka dots.
Meanwhile, Fox is in a cheap-looking off-the-peg taupe-coloured suit and earthy-toned tie. Their difference is highlighted when Gekko bluntly tells Fox to "buy a decent suit. You can't come in here looking like this."
Gekko's horizontal striped shirts are especially memorable. They were made by Alex Kabbaz and appeal to a more sophisticated market. However, as they are hard to make, they are usually custom-made and rarely found as a ready-to-wear item.
While Gekko's style remains sharp throughout, Fox takes his advice and upgrades his appearance. Soon, he is wearing a grey double-breasted suit with peaked lapels and jetted pockets, a pink shirt, and a blue-purple silk paisley tie.
Later, as Fox becomes more confident and comfortable in his position, he mimics Gekko's style with bold, colourful braces and ties, and he starts wearing striped contrast collar shirts like Gekko. He even upgrades his watch to a Cartier Panthère and adopts a gold bracelet.
The character's change in clothing and style mirrors Fox's development and growth. It symbolises his growing confidence and aspirations.
Gordon Gekko's immaculate and eye-grabbing style
Michael Douglas's appearance in Wall Street defined the period, mood, and zeitgeist of the film's setting. He is self-made and highly successful. Mirojnick might have been the costume designer, but Alan Flusser's vision for the character immediately establishes what kind of man Gekko is and the world in which he operates.
Flusser's suits were complimented perfectly by Alex Kabbaz's distinctive Winchester shirts with their contrast collar cuffs. Although they weren't invented in the 80s, they were incredibly popular at the time.
Like Fox, Gekko's outfits change throughout the movie, but they are always bold and perfectly fit the confident, outgoing character. For example, at one point, he wears a more playful pink gingham check shirt with a grey and red striped tie and a dark grey suit.
The suit, like the shirt, harks back to an earlier period. It is single-breasted, with wide peak lapels, broad shoulders, and a two-button front. Reminiscent of the 1920s, it also has the interesting feature of two-inch turnback cuffs, which cut away at the vent and are fastened by four functional buttons.
In contrast to this is the shareholder scene where Gekko delivers his famous "Greed is good" speech. Although he remains confident, he is aware his usual flashy attire won't impress the shareholders or conservative finance people in the room. So, he wears a plain white dress shirt, a dark navy suit and a matching silk tie with white polka dots - but there is still a touch of flair from a gold tie bar and matching cufflinks.
Gekko's clothes brilliantly evoke his character and the world in which he operates. He is self-made and not ashamed to revel in his success or show it to others. However, he is also an astute businessman and investor who knows when to dress conservatively. But no matter the situation, he always has an innate sense of style.
How to get the look
Looking at Gordon Gekko's attire 35 years later, it is still surprisingly contemporary. Of course, as an ensemble, it requires a lot of confidence to pull off, but many elements of his style can easily be adapted to fit modern lifestyles.
To embrace his style is to welcome what became the period's aesthetic. It was a time of bulkier suits, bold clothes, and accessories. You should wear solid, more aggressive designs with strong colours.
Gekko's shirts remain notable and stylish. The blue end-on-end shirts with a white contrast collar remain popular, while those with horizontal stripes remain eye-catching and distinct as they are rarely seen. The shirts compliment high-flyers seeking a formal but bold look.
Braces or suspenders like the Albert Thurston Eton stripes or the navy with white polka dots worn by Gekko are an option if you want to sport more bold accessories.
Although Gordon Gekko was intended and presented as an antagonist in Wall Street, his style remains contemporary and influential. It symbolises success and self-assurance, as evidenced by the increasingly confident mimicry of Charlie Sheen's character Bud Fox. The clothing, much like the personalities presented in the film, is timeless.
SHOP THE COLLECTION
Wall Street