Neapolitan Shirts: 4 Steps by Hand
In the world of menswear, Naples is known as the birthplace of soft tailoring, where to this day suits are still completely made by hand. While the South-Italian city may be less known for shirt making, Neapolitan shirts have a unique style and are of high quality due to the large amount of skill that goes into their creation.
It is therefore no surprise that our journey to find a partner to produce our new line of shirts ended at the base of Mount Vesuvius. We found a small factory where dedicated craftsmen take their time to construct our beautiful product.
Neapolitan shirts
Although handmade shirts are considered a luxury product today, they stem from simpler times. In the past, shirts were made bespoke for customers, often in small home-based operations.
These small workshops – often consisting of only a few seamstresses – perfected their craft and their product. In those days, shirts were sewn almost entirely by hand, since having dedicated machines for particular shirt details – such as buttonholes – was simply too costly.
For our new line of shirts, we chose to focus on handwork that we believe adds the most value to the shirt. Each shirt is cut by hand to ensure that all patterns are matched on the shoulder, sleeves and placket. We selected four handmade steps that not only look aesthetically pleasing but also have a functional benefit. Below, we present the handmade steps (passaggi a mano) that go into the construction of our shirts.
Collar
The collar is upturned and fastened with a pin before it is sewn by hand onto the shirt in a circle, giving it a natural curve and roundness.
This helps the collar retain its shape when worn under a jacket, making it less likely to collapse, even when the shirt is unbuttoned. The soft interlining makes for comfortable wear.
| | |
| --- | --- |
| | |
| Collar attached by hand | Handmade armhole |
Armhole
In the Neapolitan tradition, the block is stitched first, and subsequently the sleeves are put in. The sleeves are inserted slightly turned forward enabling the sleeve to follow the natural line of the arm. A noticeable detail of this method is slightly misaligned side-seams under the armscye.
Having the sleeve attached by hand also enables to feed a larger sleeve into a smaller armhole, which is a delicate operation that is impossible to do with a machine. The benefit of this handwork is that it provides flexibility and a higher degree of comfort. The subtle pick stitching on the shoulder line also has a nice aesthetic.
Gusset
The gusset is a triangular piece of fabric at the bottom of the shirt. The French call this la mouche and the Italians la mosca, which both interestingly enough translate into fly.
The purpose of the reinforcing gusset is to prevent the shirt from ripping at the seam. The gussets on each of our shirts is sewn exclusively by hand.
| | |
| --- | --- |
| | |
| Handmade gusset | Buttons attached by hand |
Button attachment
The final handmade detail on our shirts is the button attachment. Each button is attached by hand in a crow stitch style, or zampa di gallina and shanked afterwards.
Shanked buttons have an additional thread wrapped around the stitch that attaches the button to the shirt. This enforcement avoids they will loosen with wear. It also creates some space between the button and the cloth, limiting the strain on the button when it's fastened.
Conical cuff
Each shirt has cuffs that are cut in a conical style that hugs the wrist. It enables a better fit as it tapers along with the sleeve, in contrast to the straight barrel cuff, which can seem more straight and loose.
The conical cuff can be rare on ready-to-wear shirts as it is more difficult to make. It also provides a more distinctive finish to a shirt.
Fabric and buttons
The choice of fabric is of course equally as important to a shirt as its construction introduced above. We carefully select ours from premium mills across Europe, such as Albini and Thomas Mason. Most of our cotton fabrics are two-ply, which makes them strong and hardwearing.
The buttons on our shirts are made from the highest quality Australian mother of pearl. Carved from the inner layer of pearl oysters, shell buttons will outlive just about any fabric – and they aren't just robust and durable. Each button has a deep and characteristic sheen, perfectly complementing the understated appearance of our shirts.
We invested a lot of time and effort into creating our shirts, and we are certain that each of our customers will thoroughly enjoy wearing them.
SHOP THE COLLECTION
Collection
Editorial
The Story of the Grenadine Tie
Few articles of clothing can lift an outfit for a dressy look and yet help you tone things down for a casual getup. Yet, the Grenadine Tie does both effortlessly. Versatile, suave and classy, the g...
Read more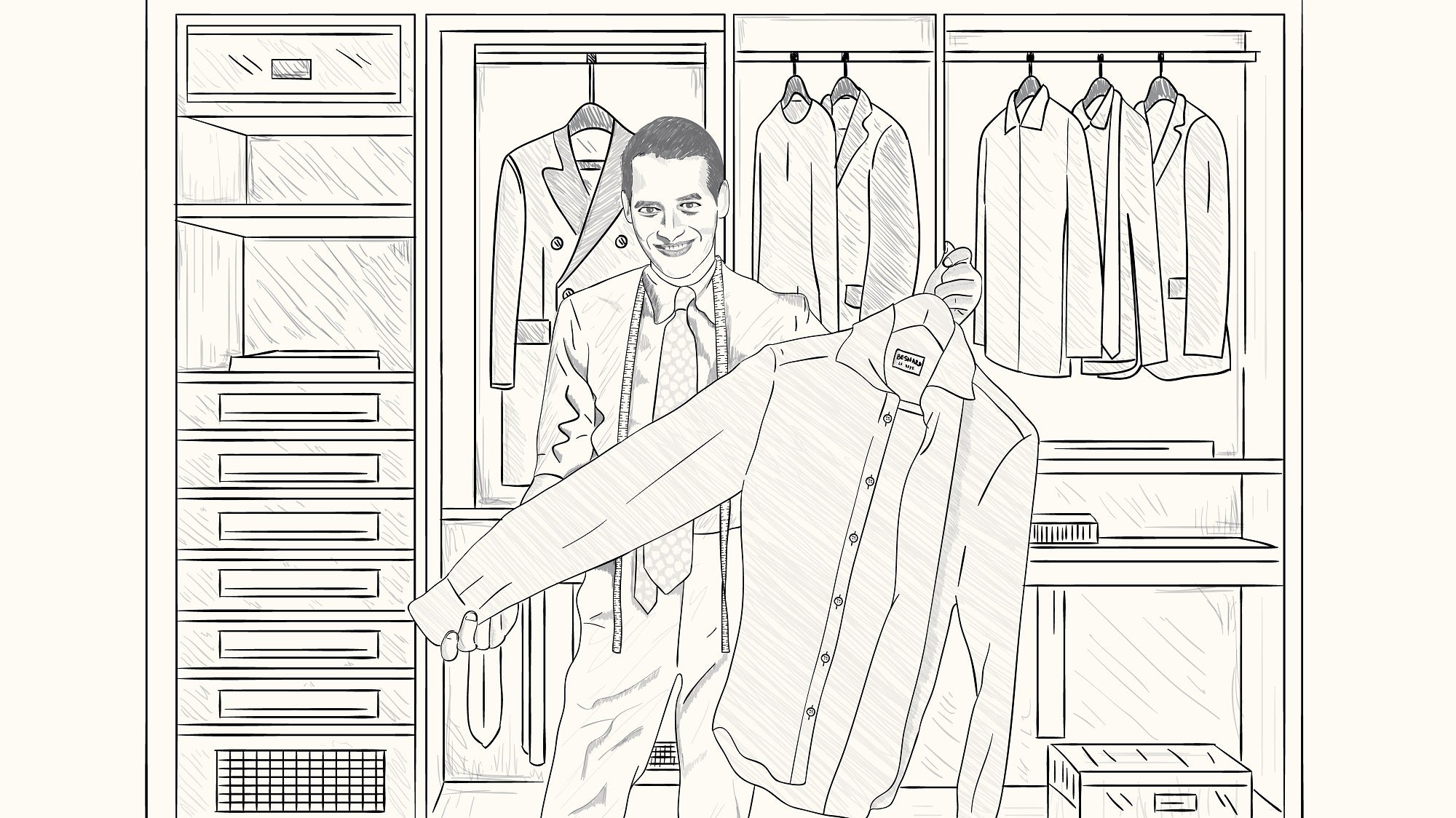 Guide
Shopping online has become increasingly popular and it obviously has its perks. On the other hand, buying clothing online can bring headaches of its own. Finding a well fitted shirt can be challeng...
Read more